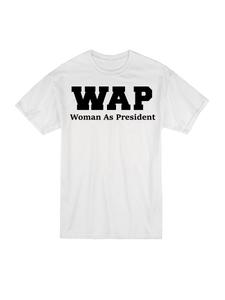 WAP Woman as president t shirt
WAP Woman as president t shirt is perfect for this upcoming 2020 election and for any future election. What better message than to have a powerful woman at the front lines of America. The brains and the beauty both a leader and a role model.
This election choose a better choice, choose WAP t shirt.

First referenced on
SNL
First Debate Cold Open
. 
Chris Wallace (Beck Bennett) moderates the first presidential debate between Donald Trump (Alec Baldwin) and Joe Biden (Jim Carrey). WAP the hit song at the time, by (Cardi B), (Megan The Stallion) was at the top of the charts. What a perfect time to combine the original WAP, which devalued woman. We then turned it to something more powerful like Woman As President. 
Of course we at Trendie Days keep with the trends and have created for your entertainment, the Woman As President t shirt. Trendie Days WAP Woman as president t shirt  is 100% cotton, white, and in a variety of sizes and styles.

We are capable of printing full color CMYK which allows us to do amazing gradients, lights and shadows for outstanding photo realism, therefore you get quality for a great price. No screen fees, unlike our screen printing competitors who charge ridiculous prices for the screens alone. See why our Direct to Garment printer is 

the future of t shirt printing
. 
We also carry a variety of clothing brands, just let us know what kind of shirt you would like and we will get it ready for your 
Professional Custom T Shirts print. Stop in on site and check out our partner store 
fantasticblades.com



About Our shirt

Our T Shirt is very comfortable soft and breathable Take a look at some of its highlights.
100% Soft Cotton


Light Fabric

Retail Fit

Runs true to size

Unisex

Trendy

High Quality

Machine Washable

Perfect Gift

Shipping 5-10 business days
Customer service is our first priority,
If you have any questions with your order feel free to contact us. 

Keeping your product clean and looking new can be a challenge, that is why we have some simple instructions to help you keep your shirt looking new. Washing and drying instructions.

See the brands we carry.

HOME