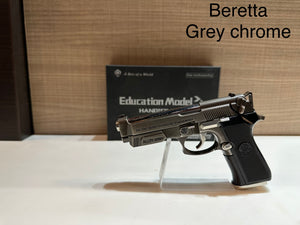 Authentic metal parts on our 1:3 scale version of the Beretta . Your thumb safety and slide actions all work.
Magazine release with loadable dummy rounds

Locking Slide moves back

Cycles dummy rounds

Closed barrel, not capable of firing

Loads one round.

Disassembles like a real gun.

Sensory fidget toy
The Beretta educational model is the perfect gift for any gun collector or person looking to educate themselves in gun safety and gun use. Small parts included, Safe for most ages.

in conclusion the Beretta will bring joy and excitement when you find out how realistic these educational models are.